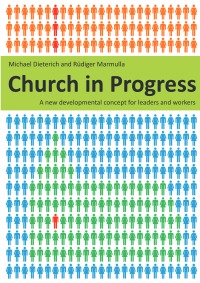 Bekannt aus:
Church in Progress
A new developmental concept for leaders and workers
Beschreibung
If the church is seen as a large workshop, then suitable tools are needed to help pastors, congregational leaders, group leaders and other congregational staff to joyfully and effectively preach the
... weiterlesen
Gospel of Jesus Christ. Every effort should be made to join together to a beautiful church structure that, as a whole, gives glory and honor to Christ. Church in Progress provides a test tool for identifying personality patterns and gifts of the "living stones" being skillfully joined together. Many times, a single staff member cannot yet meet all the requirements of his job perfectly - this is where the developmental concept of Church in Progress starts. The point is to motivate the people, actively gift and empower them to a fruitful service in the church body. Reaching across denominations, an educational scientist, a psychologist, a doctor, a consultant psychologist, a pastor and a president of a non-denominational church set to work together. It goes without saying that this book is in itself a work in progress and will be further developed in the coming years. Church in Progress seminars make it possible to integrate your feedback from your own experiences in building a church.
ausblenden
Autorenberatung
.