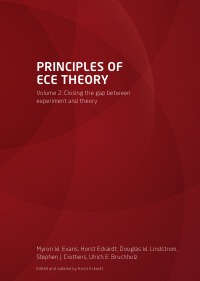 Bekannt aus:
Principles of ECE Theory Volume II (Principles of ECE Theory, 2)
Closing the gap between experiment and theory
Beschreibung
This monograph consists of eleven chapters which develop the well known Einstein
Cartan Evans (ECE and ECE 2) unified field theory which has swept the world of science
in step with the knowledge
... weiterlesen
revolution. In the first volume, ECE theory was systematically developed from geometrical first principles and applied to the unifi cation of gravitation and electrodynamics and the unifi cation of quantum mechanics and general
relativity. In this volume unification is further perfected in nine chapters as follows. 1)
"Introductory Overview on Achievements with ECE 2 Theory"; 2) "The Effect of Torsion
on Geometry"; 3) "The Field Equations of ECE 2 Theory; 4) "ECE Theory of Gravitational
Orbits"; 5) "Development of New Types of Spectroscopy"; 6) "The ECE 2 Vacuum"; 7)
"Precession in Mechanics and Gravitation"; 8) "Triple Unifi cation: Fluid Electrodynam-
ics"; 9) "Triple Unifi cation: Fluid Gravitation"; 10) "Unification of the Rainich Space:
Properties of Elementary Particles"; 11) "New Assessment and Interpretation
of Radiation Laws"; . The monograph has been translated into Spanish by Alex Hill (Spanish language section of www.aias.us. ) It has already been read tens of thousands of times of www.aias.us and www.upitec.org.
ausblenden
Autorenberatung
.