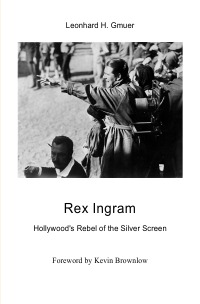 Bekannt aus:
Rex Ingram
Hollywood's Rebel of the Silver Screen
Beschreibung
A comprehensive documentation in English of the Irish film director Rex Ingram, who realizied in the Twenties movies such as "The Four Horsemen of the Apocalypse", "Scaramouche"
... weiterlesen
or "Prisonder of Zenda". At that time he was considered along with David W. Griffith and Erich von Stroheim among the most important directors in Hollywood. He was able to successfully enforce against the American studio system, especially thanks to the support of by the financier Marcus Loew and the production manager Richard Rowland. Ingram was convinced that the ultimate control over the quality of a film should only be in the hands of the director. His attention to detail, precise research and careful lighting design excell his (few remaining) films. - Ingram was a great director who let his actors a lot of space for their roles. He was a perfectionist for detail, he believed in the power of the team. Ingram discovered some of the great actors of the Twenties: Rudolph Valentino, Ramon Novarro, Lewis Stone, Ingram's second wife, the beautiful Alice Terry, the author Blasco Ibañez, cinematographer John F. Seitz, the Editor Grant Whytock - they all share many credits in Ingram's Films. Ingram's movies were not so much characterized by the psychological accents the roles but rather by the optical quality, the rhythm of the (silent) film, the largely grandiose exterior shooting, his preference for the Northern Arab Deserts and the Mediterranean Sea ( "Mare Nostrum", "The Arab", " Baroud ") - in a time when most Hollywood films played in the boudoirs of the Demi-Monde. At thhe age of 38 Ingram retired from film-making. The entire oeuvre of director, author and actor Ingram is documented in large detail with numerous historical documents and for the most part never published photos on over 550 pages with more than 275 images. The renowned film historian and Oscar winner Kevin Brownlow wrote the foreword. This is the small print reduction of the original large format edition still available.
ausblenden
Autorenberatung
.