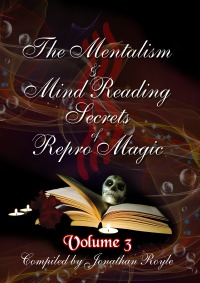 Bekannt aus:
The Mentalism & Mind Reading Secrets of Repro Magic Volume Three
Beschreibung
The Mentalism & Mind-Reading Secrets of Repro Magic – (Volume Three)
Researched and Compiled by Jonathan Royle, this Encyclopedic Book is the final of three volumes containing all of the
... weiterlesen
Mentalism & Mind Reading material that appeared in the magazines published by Repro Magic in London.
In 2008 Mike Danata acquired all Copyrights on all works published by Repro Magic and now Royle has obtained Legal License and Permission to collate these three unique and comprehensive volumes of unique Mind Miracles.
363 – Illustrated Pages.
163 – Individual Routines & Articles.
28 – Different Authors.
Covers the Period of 2003 to 2007 Inclusive.
5 Years of Unique, Original & Mind Blowing Mentalism
Contributors Include:
Barrie Richardson, Phil Goldstein aka Max Maven, Peter Kane, Stephen Tucker, Simon Lovell, Malcolm Yaffe, Steve Jones, Peter Duffie, Bob Ostin, Ian Adair, Arun Bonerjee, Walt Lees, Werner Miller, Ali Cardabra, Ron Chatburn, James Ward, Martin Peirce, Alan Ward, Kennedy Smith, Chris Wardle, Al Smith, Clyde Clayton, Mike Hopley, Brian Lead, Edward Phillips, Jerry Christensen, Les Peirce & Ananta Deb Bonerjee.
The contents of these three volumes are worth may times their weight in gold to the Mind Magician, Psychic Entertainer and Mentalist Seeking Original, Commercial and Mind Blowing Material of the highest standard for use on Stage, Close-Up and in Cabaret.
Arguably amongst the best value Mentalism and Mind Magic books ever published, study this and you will discover where so many of the so called "new" ideas of today originally came from.
Please be aware that the contents are Fascimile Reproduction Images of the actual magazine pages as they were originally published and so there is the odd spelling mistake, the odd letter of a word missing and such here and there, but that is because that is exactly how the magazine published that particular article.
ausblenden
Autorenberatung
.